Commercial Signs Not Only Advertise Your Business, But Gives You a Professional Business Image.
Commercial signs create exposure for your business in ways no other type of advertising or promoting can. A well designed, produced and mounted commercial sign becomes your calling card. Commercial signs promote your business identity and image not only to your target audience but to the world. With so many options available for commercial business signs, we here at TheSignChef.com can assist you in selecting the right type of commercial sign for your business image.
Creating and designing commercial signs that are custom and upscale in design and presentation is a guaranteed way to get noticed. Choose from from an unlimited assortment of sign materials, including plastic, wood, metal and vinyl. With custom shapes, colors and dimensions available, finding the perfect commercial signage that represents your business effectively will be a simple task. Your commercial sign will be promoting you and your business in no time.
Commercial Signage is Available in a Variety of Materials
Acrylic Commercial Signs are great for commercial signage because of their versatility. While being light weight, acrylic commercials signs are extremely strong and durable. Available in a variety of thicknesses, shapes, colors and finishes, selecting an acrylic commercial sign will represent your business with professionalism and style. Accent your acrylic commercial business signs with standoffs, they are the perfect mounting accessory to give your commercial sign an added dimension. We have a large assortment of finishes, styles and lengths to accentuate your acrylic sign perfectly.
Alumalite Commercial Signs have become one of the most popular choices when it comes to commercial business signs. Because alumalite is constructed to be light weight but extremely strong and rigid, it is the perfect material for exterior commercial signs. Alumalite commercial signage is ideal when you are in need of a large sign panel to represent your company. Traditional sign materials are extremely heavy, awkward and dangerous to mount. With alumalite those issues have been eliminated. Because of its construction alumalite can be easily and safely mounted for years to come. For added style have edge capped applied to the edges of your commercial sign. This edge cap gives your commercial sign a "framed" appearance and protects the edges. In addition it extends the life your commercial sign while adding a polished finished look to your sign.
Aluminum Commercial Signs have long since been the choice when it comes to commercial signs. Aluminum is chosen by many because of its ability to be completely customized. Its smooth, sleek, professional finish is waterproof, rustproof and chemically resistant. Making it a great choice for both interior and exterior commercial signs. Because the options with aluminum commercial signage are limitless, you can create your commercial business signs in any shape, size or style. With five different thicknesses to choose from, we can help you select the exact grade of aluminum that is right for your commercial signage and the location you desire to display it. Stand out from the competition by designing your commercial sign in a custom shape. Think outside of the box when it comes to the shape of your commercial signage. A custom shaped sign is a great way to get noticed and be remembered.
ARMOUR-Wood Commercial Signs are produced from the strongest sign material available. ARMOUR-Wood is constructed of a solid wood core, sandwiched between two sheets of factory sealed aluminum. Its solid, rigid, strong construction makes it perfect for traditional shaped signs (square, rectangle and vertical rectangle). ARMOUR-Wood signs come standard with edge capping. This capping provides extra protection to an all ready superior sign material. In addition the edge cap gives your commercial business signs a finished framed look. Use colored or pro edge capping to add even more style and flair to your commercial sign.
Dibond Commercial Signs are great for when your commercial signs call for a strong, rigid sign panel that is light weight. Dibond's plastic core is sealed between two sheets of factory finished aluminum making it the fourth strongest sign material. Dibond commercial signage is commonly seen and designed in custom shapes and because of its versatility, dibond commercial signs are used inside and outside of businesses. Customize your commercial business sign with one of our scroll brackets, these brackets are great for hanging your commercial signs and they add a stylish decorative flair to business image.
Dura-Wood Commercial Signs give you the traditional wood sign appearance but with modern day advancements. It is made from high quality MDO plywood and vinyl covered to produce a far superior commercial business sign than wood signs of years gone by. Dura-Wood's edges are primed for added protection but the addition of edge cap provides even more protection and gives your commercial signage a framed appearance. Added protection and beauty all in one.
HDU Commercial Signs give your signage a dimensional effect. Raised letters from a smooth or textured background, give the appearance of a "carved" sign. HDU, High Density Urethane, is a synthetic petroleum based material. HDU foam is flexible, strong and durable material that was specifically designed to make signs. It is available in a variety of finishes including smooth, pebble and sandblasted redwood. HDU is a great choice for commercial signs because of the affordability and customization. It offers the same look as sandblasted redwood, with a lower cost.
Sandblasted Redwood Commercial Signs bring a classic, carved wood, rustic style to your business image. Redwood is naturally beautiful and lightweight while remaining extremely strong. Usually mounted between two post, sandblasted redwood commercial signs are available one sided as well as double sided for maximum exposure. Because of the production method, sandblasted redwood signs are all unique. And because sandblasted redwood signs are available in a variety of thicknesses so you can find the right look for your business. Commercial business signs that are produced from sandblasted redwood command attention and are recognized because of this traditional signage material.
Commercial Decal Signs while not traditional "rigid" signs are still effective signage when it comes to promoting your business. Decals are described as large stickers and can easily be applied to a variety of surfaces. Store windows, vehicles, interior walls and even products, custom decals are their own kind of commercial signage. Commercial decals give you the flexibility to apply your branding to necessary promotional materials and products. Decals can be produced in any size, shape or color and easily a do-it-yourself project, removing the cost of hiring a professional for installation.
Commercial Vinyl Letters are easily the most economical commercial business sign money can buy. Vinyl letters are used by almost every type of business. Whether they are applied to store windows, company vehicles, walls or product themselves, vinyl letters allow you to advertise your business and product effectively. And because vinyl letters come in any color, font and size they are totally customizable for your business. They are easily applied and can begin working for our business immediately.
Commercial Magnetic Signs attached to company vehicles transforms your fleet into mobile commercial signage. Take advantage of your company vehicles and advertise as they commute from target market to target market. Magnetic signs are a quick and easy way to give your company a commercial look. Magnetic commercial business signs applied to vehicles can advertise services, specials, contact information or promote products. With added Scratch-Guard protection, these commercial signs won't damage your car if you ever need to remove them.
<script type="text/javascript">var switchTo5x=true;</script> <script type="text/javascript" src="http://w.sharethis.com/button/buttons.js"></script> <script type="text/javascript">stLight.options({publisher: "86bf83f0-7ee9-4c74-bb04-7a1e186a0519"});</script> <span class='st_facebook_hcount' displayText='Facebook'></span> <span class='st_twitter_hcount' displayText='Tweet'></span> <span class='st_googleplus_hcount' displayText='Google +'></span> <span class='st_pinterest_hcount' displayText='Pinterest'></span> <span class='st_email_hcount' displayText='Email'></span>
Need Inspiration? Check Out Our Templates for Ideas!
Real Estate Commercial Signs


Mission Statement Commercial Signs


Commercial Business Signs


Commercial Sale Signs

Variety of colors and shapes to choose from
Full color prints
Great for indoor and outdoor applications
Highly tolerant of environmental conditions (wind, cold, and hot weather extremes)
Variety of finishes and styles
Ships ready to install
Easy to install and mount
Available in any size
Available in any shape
Available in any color, design or style
Your choice of design, photos, logos or artwork in your banner designs
Design or Price Commercial Signs
Design Online
Price Now
Unlimited proofs with every sign. We send a proof of your design to ensure 100% satisfaction before we ship.
Free shipping on all Commercial Signs for orders within the continental US greater than $125 for ground and greater than $400 for freight
Are Commercial Signs for you?
Use our material selection wizard to help you determine the right sign material for your needs.
Find Out Now
Commercial Sign Material Suggestions
Acrylic Commercial Signs

Alumalite Commercial Signs

Aluminum Commercial Signs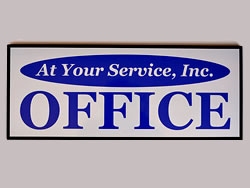 ARMOUR-Wood Commercial Signs

Dibond Commercial Signs

Dura-Wood Commercial Signs

HDU Commercial Signs

Sandblasted Redwood Commercial Signs

Commercial Decal Signs

Commercial Vinyl Letters

Commercial Magnetic Signs