Trade Show Banners and Displays
Get everything you need to make your trade show display a success.
Get Your Trade Show Display When and Where You Need It
Banner orders over $125 qualify for free ground shipping and orders over $400 qualify for freight shipping to any location within the continental U.S.
So you can have your display delivered to nearly any location you need it - including your hotel.
When you need a trade show display designed and delivered fast we are here to help. Once your design is approved most of our banners ship out within 2 business days.
Our turnaround time is measured in days rather than weeks!
And if you need help with design - you are in the right place! Take advantage of our LiveDesign service to work one-on-one with one of our graphic designers and get exactly the look that is right for you.
Giveaway Goodies
One of the trade show perks is free swag. Make sure what you give away is something useful to your clients - something they can see, use, and interact with all the time. (Engraved wooden usb drives are a great example) Don't fade away in a pile of unused stress balls.
If you're holding a raffle or big giveaway use your own products or services. You'll attract better leads then by simply offering a product from another company that you think would attract a crowd.
Create an Open Space
Position your tables and staff to encourage attendees to go in to your booth. Engage your visitors with hands on displays and demos. Encourage a crowd by hosting a raffle. Videos, presentations, and demos can be projected onto your back wall.
Make sure to include something of value to your visitors, whether it is information, a hands-on experience, or something tangible to take home.
It's All About Making Connections
Above all going to trade shows is all about making genuine connections. Look for those people who are greatly interested in your product or service and have in-depth conversations with them.
Rather than pushing your product ask them questions! What does your client love? What does your supplier hate? Get direct information about how to make your product better!
Send out e-mails beforehand to schedule meetings or a chat over coffee with other attendees.
Use pre-show marketing, post-cards, and promos to give attendees a reason to plan a visit to your booth.
Placing Graphics
Long Range Graphics: Large graphics, usually including your logo, displayed at maximum height with hanging signs or columns help attendees find you on the show floor.
Mid Range Graphics: Place at eye-level 10 to 50 feet from the aisle to attract the attention of attendees in the aisles and at other booths. You'll probably want to include your company and product names as well as your logo and tagline.
Short Range Graphics:This is where you'll place content with plenty of information - your benefits, pricing, services, features, applications, and more! Visitors should be able to see this information from 1 to 10 feet away and you should try to mount it eye-level.
For help choosing the size of you letters use our letter sizing calculator to determine to see how big your letters should be for easy viewing at the right distance
Trade Show Display Design Tips
Trade show banners are not what you're used to, they're not what you see at the supermarket down the street or the appliance store in the mall. They're professional, corporate looking banners and are easy to install and travel with.
For the most professional appearance at a trade show follow these simple design tips.
Know the dimensions of your booth before you begin designing.
Make sure to leave space for your staff - plan on using 30% of your space for your representatives.
Limit your palette to 3 key colors and textures and use those to complement and enhance each other. Your goal is to be eye-catching without going overboard.
Choose colors that contrast with each other for improved visiblity.
Keep those colors consistent across all your display elements and corporate branding.
Avoid using a busy or distracting background.
Keep fonts simple and easy to read.
Use no more than 2 fonts. For variation use them in different sizes, weights, and styles.
Use one good-quality large image instead of lots of small ones.
If you choose multiple small images find an intriguing way to arrange them.
You want to catch the eye quick - so make sure your key signage can be read in about 3 seconds. A great tip is to aim for six words or less.
Your display should quickly cover what you do, who you are, and how you help your customers.
Remember to portray the benefits of your product. People always want to know, "How can this help me?"
People love people - feature authentic images of people interacting with your product.
Provide access to electronic catalogs, demos, and sign-up lists with ease by adding a QR code to your signs, banners, ads, and even t-shirts!
Use your space to tell your story, introduce your products, and stop attendees in their tracks.
Choose display pieces designed for trade shows - they tend to be lightweight and easy to assemble without the use of additional labor.
Custom Trade Show Videos
Below find links to our very own video series. There you will find all the information you need about any type of tradeshow banner or display. In addition check out some of our other video selections when you need information about any type of new custom sign. If for some reason you don't find what you are looking for we are always here to assist with any question or special request you might have.
Trade Show Catalog Video
Brand New Trade Show Catalog
1:49min
How to Make a Great Trade Show Booth
1:24min
How to Set Up a Banner Stand-Economy Grade
2:54min
How to Set Up a Banner Stand-Mid-Tier Grade
3:27min
How to Set Up a Banner Stand-Premium Grade
6:04min
How to Use a Banner Stand-Selecting the Right Banner Stand
2:07min
How to Make a Great Trade Show Booth-Graphics and Printing
3:37min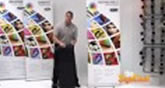 How to Use a Banner Stand-Shipping Case
2:46min
How to Set Up a Trade Show Display-Quick Wall
2:41min
How to Set Up a Trade Show Display-Pop Up Wall
6:29min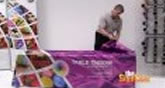 How to Make a Great Trade Show Booth-Premium Grade
3:11min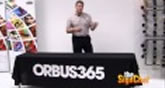 How to Make a Great Trade Show Booth-Table Covers
2:27min
Frequently Asked Questions About Custom Tradeshow Banners
"Just how fast can you construct a custom banner for me?"
Once you've approved the finished graphic online, your custom tradeshow banners will dispatch within 4 to 5 business days!
Unusual signs and large order requests usually dispatch in 5-10 normal business days. If your order is time sensitive, please approve the exact turnaround time with Customer Service at 1-800-899-6272.
"Could you assist me with a rush order?"
Absolutely!
We're well equipped with inventory and staff to handle rush orders. When you get in a bind and need banners fast, we'll try everything within our power to help your corporation to get the custom tradeshow banner you'll need, when it's needed!
"Can I have my custom tradeshow banners personalized online with any design I want?"
Many of the trade show items are completely customizable and you can get any design that you need. Some items are meant to complement designs and are offered only in solid colors. Please give us a call or send an email to service@thesignchef.com if you have any questions.
"What is your minimum order?"
The minimum order is just one!
"Do you offer any quantity discounts for custom tradeshow banners?"
Definitely!
The more you order at once, the less every one will cost you. You can reach an increased number of individuals for a more cost-efficient price!
"What if my custom tradeshow banner arrives with a flaw... what can be done?"
If your custom tradeshow banners or any other merchandise is defective or has manufacturing flaws, please speak to Customer Service via Live Chat or give us a call at 1-800-899-6272 immediately. Manufacturing defects fit in our Workmanship Guarantee, therefore we will replace your sign for free.
If you are attempting to contact us after business hours, you are able to e-mail us at service@thesignchef.com and we will reply when business hours resume.
"Can I make my trade show banner two-sided?"
Yes! TheSignChef offers ghost-free, two-sided vinyl banners!
Standard vinyl banner material is "translucent". In other words, you can see the light right through it. So if you put letters on both sides of standard banner material, a faint ghost image of the letters are visible on the other side of the banner. This ghosting effect can distract your message and doesn't look professional.
Therefore by specifying a "16 ounce blockout banner material" for your double-sided vinyl banners, you will avoid the see-through effect while adding significant strength to your custom banner. For maximum durability and wind resistance, double-sided vinyl banners should have hems and grommets placed every 30".
"What is the best type of banner material to use indoors?"
The same banner material that's used for outdoor banners is great for indoor banners too. If your audience is going to be viewing your banner up close though, we offer a premium "Super Smooth" banner material option at no additional charge.
"Which type of banner material is recommended for trade shows?"
Since a trade show is where everyone is "showing off", there is a more popular, higher end option to consider to make sure your booth really stands out in the crowd.
If you wish to project the best possible corporate image, there is nothing better than a full-color Flexible Plastic Banner (yes, plastic). When digitally printed on a high resolution printer, this photo receptive plastic banner material will project the highest quality appearance possible. Plus, it is so durable and flexible, it can be used again and again with a portable, retractable banner stand.
Our premium trade show banners are printed directly onto the plastic film using our high resolution, full-color printer and then protected with a laminate film on the back to preserve the image from show to show.
Visit our banner display and mounting accessories page for other display ideas.
"How do I know that my custom vinyl banner will turn out the way I want?"
Upon order approval, here's how the process works:
First, your order goes straight to the Art Department
Our Graphic Designer will then e-mail you a proof
(a "proof" is a picture of what your sign will look like)
Once you review the layout, let us know if you would like to see any changes, and …
If you have any changes, we will e-mail you proofs as needed until you're completely happy with your design.
"Do you offer any buyer protection guarantees?"
Yes! Every vinyl banner order comes with a 100% Buyer Protection Guarantee
Sometimes, we make mistakes. We are only human after all. But it's how a business handles mistakes that counts, wouldn't you agree? So if we do happen to overlook something on your order, we will bend over backwards to make you happy. We stand behind our work with a 100% Customer Satisfaction Guarantee.
We will promptly replace any product that is defective in workmanship or that is different from what you approved. And for your trouble, you'll even get a very pleasant surprise gift.