Custom Printed Signs are Top Notch Quality, Perfect for Your Business and Promotions!
Custom printed signs say a lot about your business and your business image. Having the best possible sign assures clients and potential clients that your business is professional and can satisfy their needs. We do believe presentation is everything and our digitally printed signs are some of the best in the industry. Each and everyday we craft custom printed signs with the highest quality, brightest colors and the most detail.
Digitally printed signs are perfect in a large assortment of venues. Custom printed signs are durable and long lasting and make great outdoor signage. Because they are produced to weather mother nature and other conditions that come with the outdoors. Indoor custom printed signs make great decorative as well as functional additions to homes and businesses. Custom printed banners are extremely versatile. Because they are light weight and durable they can be easily stored for repeated use. Custom printed banners are great for any type of signage, whether it's professional or personal.
Custom Printed Sign Applications
Outdoor Custom Printed Signs are not only vibrant, colorful and full of detail they are durable and long lasting. The outdoor sign material and its digitally printed signs will endure years of weather, traffic and pollution and continue to promote your business, event or personal message. Our high definition printing gives your custom printed signs superior detail and color quality. Digitally printed signs are the preferred choice for outdoor signage because of the high resolution and photographic like quality produced by our upscale printers. This enables you to promote and advertise the exact message, image or text you need to be successful. With such top notch printing we can produce striking, vibrant and detailed custom printed signs for you outdoor applications.
Indoor Custom Printed Signs are available in a variety of materials. From plastic, to wood, to metal, these indoor screen printed signs are made of the highest quality and five star printing. Our state-of-the-art large format printing is designed for quality, flexibility and speed. Our top of the line printers produce vibrant colors, stable grayscales and outstanding neutrals. What that means for you is a custom printed signs with the perfect color. With custom PMS color match available and our daily color calibrations we guarantee vibrant, accurate color on all our digitally printed signs.
Real Estate Custom Printed Signs must have exceptional detail and quality, after all your "sales" may depend on it. Our real estate custom printed signs are just that quality and superior product you seek. Real estate signage with digitally printed signs allow you to give accurate and detailed information. The advancement of our printing allows you to list all contact information, features and amenities of the property, images and even vibrant promotional agent photos. Screen printed signs used for the real estate market combined with our advanced printing can represent you and your property professionally and accurately.
Vehicle Custom Printed Signs need to be readable at a glance or at least visible at a passing, so having the best printing available for your vehicle signs is imperative for effective business and event exposure. Our large format printers produce brilliant images and text providing you and your business with clear crisp images, business text and design effects. Our digitally printed signs for vehicles are available in an assortment of materials including vinyl, perforated vinyl (window perf, for application on glass), magnetics and bumper stickers. All are guaranteed to be full color vibrant and the finest detailed available.
Custom Printed Banners are great for almost every type of sign application. Custom printed banners are great for businesses, sporting events, promotions and personal celebrations. Our custom printed banners are some of the finest. Printed on our state-of-the-art printers, our custom printed banners are full color and show the finest detail. So regardless if your custom printed banner is a solid color with text or a detailed photograph, we promise to deliver a superior, vibrant, detail rich banner. When designing your custom printed banner feel free to use any design, artwork, photo or logo that works with your business or promotion. Size is not a limit either, any size banner you need we can produce, from the smallest "Welcome Home" banner to the largest street wide banners.
Specialty Custom Printed Signs and Banners are great gifts and help celebrate personal events or spaces. The ever popular and now "famous" man cave is just an example of one such specialty custom printed signs. These signs are produced with the same quality as all of our digitally printed signs, but with a bit more whimsy and fun. With a variety of specialty sign templates to choose from, finding the perfect one for your application will be an enjoyable endeavor. For an even more creative and personal custom printed signs, design own yourself using our online design software or accessing our graphic artists for free.
<script type="text/javascript">var switchTo5x=true;</script> <script type="text/javascript" src="http://w.sharethis.com/button/buttons.js"></script> <script type="text/javascript">stLight.options({publisher: "86bf83f0-7ee9-4c74-bb04-7a1e186a0519"});</script> <span class='st_facebook_hcount' displayText='Facebook'></span> <span class='st_twitter_hcount' displayText='Tweet'></span> <span class='st_googleplus_hcount' displayText='Google +'></span> <span class='st_pinterest_hcount' displayText='Pinterest'></span> <span class='st_email_hcount' displayText='Email'></span>
Variety of colors and shapes to choose from
Full color prints
Great for indoor and outdoor applications
Highly tolerant of environmental conditions (wind, cold, and hot weather extremes)
Variety of finishes and styles
Ships ready to install
Easy to install and mount
Available in any size
Available in any shape
Available in any color, design or style
Your choice of design, photos, logos or artwork in your banner designs
Design or Price Digitally Printed Signs
Design Online
Price Now
Unlimited proofs with every sign. We send a proof of your design to ensure 100% satisfaction before we ship.
Free shipping on all Custom Printed Signs for orders within the continental US greater than $125 for ground and greater than $400 for freight
Are Digitally Printed Signs for you?
Use our material selection wizard to help you determine the right sign material for your needs.
Find Out Now
Custom Printed Sign Options
Outdoor Custom Printed Signs

Indoor Custom Printed Signs

Real Estate Custom Printed Signs

Vehicle Custom Printed Signs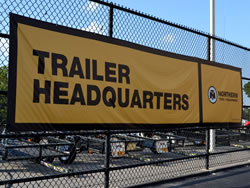 Custom Printed Banners

Specialty Custom Printed Signs and Banners