Custom Dibond Signs
Dibond is created by permanently bonding two sheets of aluminum onto a solid plastic core. This adds thickness and strength to the sign without adding a lot of weight.
Wide range of finishes
Rust-proof and Rot-proof
Great for custom shapes
Are Custom Dibond Signs Right For You?
How can you find out for sure if dibond is the right material for your project? Learning the distinguished components of the dibond sign material is the key.
The Dibond sign material is made of both the aluminum and plastic sign material. Two factory-painted sheets of aluminum are permanently bonded to both sides of a high density plastic core, sandwiching the plastic sign panel in between.
The solid plastic core adds body, thickness and rigidity to the sheet while allowing it to remain lightweight. In fact, Dibond custom signs have 10 times more strength than a sheet of .040" aluminum making it the 4th strongest sign panel (ARMOUR-Wood metal signs are #1 in panel strength) yet the material weighs only 32 pounds for an entire 4' x 8' sheet.
Custom Dibond Sign Videos
You don't have to select a sign material without all the facts. Below are various Dibond videos which contain all the information you need to make the right choice for your new custom sign. View Dibond up close, find out what sizes are avilable and learn how custom shapes can really make your sign stand out. Regardless of your need these videos will aid you in selecting the correct sign material.
What does Dibond Really Look Like Up Close?
3:03min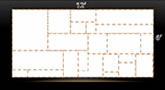 Can You Really Get Any Size Dibond Sign?
2:39min
Dibond Signs - How Thick Should Your Dibond Sign Be?
2:44min
Dibond Signs- Can I Get Any Shape I Want?
2:39min
Here are the key points to know about custom Dibond Signs:
An aluminum sign panel that has a SOLID plastic core.
This SOLID plastic core provides additional panel strength.
Has the broadest range of finishes available (including brushed gold and brushed silver corporate finishes).
Completely rustproof, waterproof, rot-proof and is chemically resistant.
Lasts decades indoors.
Can be one-sided or two-sided.
Easy to mount (Mounting kits are available).
1/8" thick panels are strong yet lightweight with minimal flexibility.
1/4" thick panels are highly rigid and sturdy.
Any shape, any size and virtually any color you want.
Any design, artwork, photo or logo can be used for your custom Dibond Sign.
High tolerance for cold and hot weather temperature extremes and heavy precipitation.
Big or Small, We Do It All!
While most sign companies are setting limits to what size your Dibond Sign can be, we are printing Dibond Signs in every size.
Dibond Signage from TheSignChef comes in sizes up to 5' x 10' in a single, seamless sheet.
If you need a sign that is larger than that, no worries! Just let us know, and we'll make sure to get you any size Dibond Sign you need.
The most popular sizes available for custom Dibond Signs are as follows:
10" x 12"
12" x 18"
18" x 24"
24" x 36"
48" x 96"
Available Design Options:
PMS Color Match
Brushed Silver Finish
Brushed Gold Finish
Polished Silver Finish
Custom Hole Placement
Custom Shapes
Rounded Corners
Dry Erase Laminate
Reflective Colors
Trim Cap
Sometimes, all you want is the bottom line!
Our online Dibond Sign pricing tool instantly calculates the exact prices on Dibond Signs.
At TheSignChef.com, shipping for Dibond Signage and all other indoor and outdoor signs is free for orders within the continental US greater than $125 for ground and greater than $400 for freight.
Orders outside the state of South Carolina are tax-free!
We do offer quantity breaks at 1, 2, 3, 4, 5, 10, 15, 20, 25, 50, 100, 250, 500, 1000, 2500 and 5000.
We offer more colors for Dibond Signs than anyone out there on the web!
You can now choose from ANY color under the sun when designing your new signage.
You can even choose a reflective color.
Available in brushed silver finish, brushed gold finish, and polished silver finish.
PMS Color Match available on most materials.
We custom cut more shapes for Dibond Signs than any other sign company!
TheSignChef.com will cut your Dibond Signage to ANY custom shape.
Pictured below are a few custom sign shapes, if you need an Dibond sign in a more unique shape, let us know.
Displaying Dibond Signage is easy!
We offer installation kits and accessories that will help you mount your new sign to wood, metal, stucco, brick masonry or concrete!
We offer a large variety of scroll brackets for hanging your new custom sign.
We can drill holes to the top of your sign to simplify the hanging process.
Selection of screw caps are available for a finished polished look.
Adhesive backing available on small and lightweight signage.
Frequently Asked Questions About Custom Dibond Signs
"Just how quickly can you create a custom dibond sign for my corporation?"
We make custom dibond signs rapidly. As soon as you approve the finished graphic online, your custom dibond signs will dispatch within just 24-48 hours!
Special signs and large order requests normally dispatch within 3-7 business days. If your order is time crucial, please authorize the exact turnaround time with Customer Service at 1-800-899-6272.
"Could you assist me with a rush order, even for a custom dibond sign?"
Of course!
We have been well equipped with inventory and personnel to address rush orders for a wide array of custom dibond signs. For those times you get in a bind and need your custom dibond sign fast, we'll bend over backwards to aid your enterprise in receiving the custom dibond sign you need, when it's needed!
"Can I get my custom dibond signs personalized online with any graphic I want?"
Yes!
You can get just about any design or color scheme you wish on your custom dibond sign.
"What is the minimum order for custom dibond signs?"
The minimum order for a custom dibond sign is only one!
Quantity price breaks start with merely two custom dibond signs. Obviously, the more you buy at once, the better you'll save (as with all our custom signs).
"Do you give any quantity reductions for custom dibond signs?"
Yes!
The more custom dibond signs you obtain, the less every single one will cost you. This means that your custom dibond signs can reach an increased number of people for a more cost-efficient price!
"What if my custom dibond sign arrives with a defect or is damaged...what can you do?"
If your custom dibond signs or some other merchandise shows up defective or has manufacturing defects, please contact Customer Service via Live Chat or give us a call at 1-800-899-6272 immediately. Manufacturing defects fit into our Workmanship Guarantee, therefore we will replace your sign free.
If you are trying to get us after business hours, you can e-mail us at service@thesignchef.com and we will reply when business hours resume.
"What is the life span for Dibond signs?"
The Dibond composite sign material will not swell, wick water, corrode, rot or delaminate even under prolonged water exposure. The Dibond material itself will outlast the artwork on your sign. Our uncoated Economy Grade Signs are rated to last up to 2 years outdoors while our Standard and Premium Grade Signs coated with an optically clear, UV Protective Lamination are rated to last up to 3 years, and 5 years respectively outdoors. Dibond signs can last for decades indoors.
"What is the best way to handle Dibond Signs?"
During handling and installation of Dibond signs, extreme care must be exercised. The painted finish is not as scratch resistant as you might think. Although Dibond metal signs are highly weather and fade resistant, the paint can be easily scratched if you're not careful.
When cleaning the surface, only use a mild soapy water solution and the softest cloth you can find. Don't use dry paper towels as they can put extremely fine scratches in the paint which may be visible up close.
"What are the most common uses for Dibond signs?"
The following types of signs are commonly made from the Dibond sign panel:
Corporate
Architectural
Tradeshow
POP Displays
Contractors
Real Estate
New Construction
Commercial
Marina
Directional
Hospital
University
Military
Industrial
Business
"Are Custom Dibond Metal Signs suitable for installation between two posts?"
On a scale of 1 to 10, with "10" having the highest relative strength, here's how each metal sign background material compares to one another:
"How do I know that my custom Dibond sign will turn out the way I want?"
Are you concerned that your custom Dibond sign may not turn out the way you want?
After all, we are probably hundreds of miles away from you so how can you be certain your order will turn out right? Fortunately, it only takes seconds to transmit full-color custom Dibond sign designs from our computer to yours because e-mails travel so fast these days.
Upon order approval, here's how the process works:
First, your order goes straight to the Art Department
Our Graphic Designer will then e-mail you a proof
(a "proof" is a picture of what your sign will look like)
Once you review the layout, let us know if you would like to see any changes, and …
If you have any changes, we will e-mail you proofs as needed until you're completely happy with your design.
"Do you offer any buyer protection guarantees?"
Yes! Every Dibond sign order comes with a 100% Buyer Protection Guarantee
Sometimes, we make mistakes. We are only human after all. But it's how a business handles mistakes that counts, wouldn't you agree? So if we do happen to overlook something on your order, we will bend over backwards to make you happy. We stand behind our work with a 100% Customer Satisfaction Guarantee.
We will promptly replace any product that is defective in workmanship or that is different from what you approved. And for your trouble, you'll even get a very pleasant surprise gift.