[TEMPLATES[indoor-hanging-signs]]
Indoor Hanging Signs for All Your Business Promotions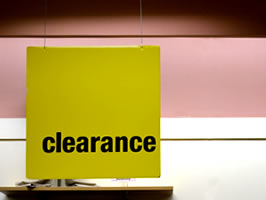 If You Need Inspiration Check Out Our Templates for Ideas
Scratch and Dent Indoor Hanging Sign Templates


more >
Finance Indoor Hanging Sign Templates


more >
Oil Change Indoor Hanging Sign Templates


more >
Baby Shower Indoor Hanging Sign Templates


more >
Custom Indoor Hanging Signs
Let TheSignChef.com be your new source for indoor hanging signs, with our wide-ranging assortment of materials and mounting options. We specialize in many custom indoor hanging signs such as Acrylic, PVC, Foam Core Ultra, Posters, and Banners. Whichever option you choose, your sign will be printed on the highest quality material with some of the most advanced printing equipment available. Presenting the right image is of upmost importance, and indoor hanging signs are perfect way to make your custom signs stand out from the crowd.
If you are looking for short-term signage, Banners, Posters, and Foam Core are the ideal products for you! Our choices of metal or plastic banner rails are simple, classy, and cost-effective solutions for displaying your graphics on these materials. Our Aluminum banner rail is available in our original snap-lock design and our new slide-in model. Both models are fitted with end caps and hanging eyelets for a professional finishing touch. Our plastic banner rail has the same simple slide-in design and is ideal for those who are on a budget.
Materials available are:
Acrylic Plastic
Alumalite
Aluminum
Banners
Coroplast
Dibond
Dura-Wood
Engraved Clear Acrylic
Engraved Metal
Engraved Plastic
Foam Core Ultra
PVC Plastic
Big or Small, We Do It All!
While most sign companies are setting limits to what size your Indoor Hanging Sign can be, we are printing Indoor Hanging Signs in every size.
Indoor Hanging Signage from TheSignChef comes in sizes up to 5' x 10' in a single, seamless sheet.
If you need a sign that is larger than that, no worries! Just let us know, and we'll make sure to get you any size Indoor Hanging Sign you need.
The most popular sizes available for custom Indoor Hanging Signs are as follows:
12" x 18"
12" x 24"
18" x 24"
18" x 30"
24" x 24"
24" x 36"
36" x 36"
36" x 48"
Available Design Options:
PMS Color Match
Brushed Silver Finish
Brushed Gold Finish
Polished Silver Finish
Custom Hole Placement
Custom Shapes
Engraved
Rounded Corners
Dry Erase Laminate
Reflective Colors
Trim Cap
Sometimes, all you want is the bottom line!
Our online Indoor Hanging Sign pricing tool instantly calculates the exact prices on Indoor Hanging Signs.
At TheSignChef.com, shipping for Indoor Hanging Signage and all other indoor and outdoor Signs is free for orders within the continental US greater than $125 for ground and greater than $400 for freight.
Orders outside the state of South Carolina are tax-free!
We do offer quantity breaks at 1, 2, 3, 4, 5, 10, 15, 20, 25, 50, 100, 250, 500, 1000, 2500 and 5000.
We offer more colors for Indoor Hanging Signs than anyone out there on the web!
You can now choose from ANY color under the sun when designing your new signage.
You can even choose a reflective color.
Available in brushed silver finish, brushed gold finish, and polished silver finish.
PMS Color Match available on most materials.
We custom cut more shapes for Indoor Hanging Signs than any other sign company!
TheSignChef.com will cut your Indoor Hanging Signage to ANY custom shape.
Pictured below are a few custom sign shapes, if you need an Indoor Hanging Sign in a more unique shape, let us know.
Displaying Indoor Hanging Signage is easy!
We offer installation kits and accessories that will help you mount your new sign to wood, metal, stucco, brick masonry or concrete!
We offer a large variety of scroll brackets for hanging your new custom sign.
We can drill holes to the top of your sign to simplify the hanging process.
Selection of screw caps are available for a finished polished look.
Adhesive backing available on small and lighweight signage.
For a simple, elegant way to hang your more long-term Acrylic and PVC signs, we offer decorative ceiling mount scroll brackets. These scroll brackets are able to accommodate different custom shapes, ovals, and rectangles. Our hanging sign brackets are made from high quality materials and finished with a superior powder coating. For a more traditional look, we also offer our sign hanging hardware kit which includes twisted chains and D-Rings. Whether you are on a budget or you have more permanent signs to display, TheSignChef.com will elevate your new custom indoor hanging signs above the crowd.
Examples of Great Custom Indoor Hanging Sign Designs:
Below are just a few examples of the quality work we produce. Every week we ship out hundreds of custom signs, banners and sign products, for now here is just a sample to whet your appetite. Here at TheSignChef.com we strive to make the best product at the best price. We take pride in every sign, banner and product we ship out. If you are interested in seeing more designs or finished signs check out our photo gallery. There you can find examples of countless signs and banners.
View more samples in our photo gallery >
Frequently Asked Questions About Custom Indoor Hanging Signs
"Just how rapid can you make a custom indoor hanging sign for somebody?"
We make custom indoor hanging signs quick. As soon as you approve the final design online, your custom indoor hanging signs will dispatch within just 24-48 hours!
Large orders and special sign requests normally ship within 3-7 business days. If your order is time crucial, please confirm the particular turnaround time with Customer Service at 1-800-899-6272.
"Is it possible to help me with a rush order, even for a custom indoor hanging sign?"
Yes!
Were well equipped with product and personnel to deal with rush orders for a wide selection of custom indoor hanging signs. For those times you find yourself in a bind and need your custom indoor hanging sign fast, we'll bend over backwards to assist your business to receive the custom indoor hanging sign you may need, when it's needed!
"Can I receive my custom indoor hanging signs modified online with any graphic I would like?"
Of course!
You can aquire virtually any design or color combination you need on the custom indoor hanging sign.
"Exactly what is your minimum order for custom indoor hanging signs?"
The minimum order for a custom indoor hanging sign is simply one!
Quantity discounts start with merely two custom indoor hanging signs. Certainly, the more you purchase at once, the more you save (as with all our custom signs).
Although custom indoor hanging signs are available by other sign companies, we're not an enormous fan of using PVC Plastic Sign material outdoors. PVC Plastic Signs are responsive to solar heat which may cause the plastic sign material to warp. Plus, there's very little price savings over the predictable qualities of aluminum.
"Do you make available any quantity reductions for custom indoor hanging signs?"
Of course!
The greater number of custom indoor hanging signs you get, the less each one will cost you. Consequently your custom indoor hanging signs can reach a higher number of people for a more cost-efficient price!
"What if my custom indoor hanging sign arrives possessing a defect or maybe scratched...what can you do?"
If your custom indoor hanging signs or any other product arrives broken or contains manufacturing defects, please call Customer Service via Live Chat or phone us at 1-800-899-6272 immediately. Manufacturing defects come under our Workmanship Guarantee, therefore we will replace your sign free.
If you try to contact us after business hours, it is possible to e-mail us at service@thesignchef.com and we'll get back to you when business hours resume.