[TEMPLATES[street-signs]]
Custom Street Signs for All Your Business and Personal Needs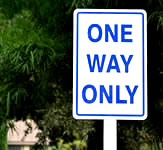 View more samples in our photo gallery >
Custom Street Signs
We are a leading national supplier of both standard and custom street signs and hardware. Our most popular option for custom street signs is Aluminum. It is a strong, light-weight material and it's among the most durable of all sign materials. As a material it is cost effective and remains in high demand for its unbeatable weather-proof qualities. A custom Aluminum sign will never rot or deteriorate like a standard wooden sign and does not rust like steel or tin. TheSignChef.com's Aluminum signs have a perfectly smooth finish and project a first class image.
Not only do our signs look good, but they are made to last! Our standard street signs are produced from a heavy gauge, .080 Aluminum and are covered with our high intensity reflective vinyl to meet federal guidelines. For your convenience, we can also produce your street signs with our non-reflective clear laminate.
If you are looking for a more distinctive custom look for your new street sign - you may want to consider Sandblasted HDU or Redwood signs. The sandblasting gives each sign a cool dimensional look and is very popular for apartment complexes and neighborhoods.
These unique signs offer an attractive, rustic finish. The carved, raised letters create a professional look that offers more character than a traditional aluminum street sign. Redwood is a very strong sign surface that is rarely affected by the wind. While HDU is durable, it is lighter and more flexible than wood. As a petroleum based material, HDU is naturally waterproof. This means that HDU lasts longer than wood. Whichever option you choose, your new street sign will be sure to stand out from the crowd.
Our numerous design templates provide a fast and effective way to give you a head start on the design process. We can also customize your signs to whichever size and design you would like upon request.
If You Need Inspiration Check Out Our Templates for Ideas
Traffic Flow Street Sign Templates


more >
Neighborhood Watch Street Sign Templates


more >
Reserved Street Sign Templates


more >
Do Not Block Street Signs Templates


more >
Frequently Asked Questions
"Just how fast can you produce a custom street sign for someone?"
We make signs fast. Once you have approved the final graphic on the internet, your signs will generally ship within just 24-48 hours!
Signs made of some of our specialty materials (including Redwood and HDU) have a longer processing time and will ship in 3-4 weeks.
Huge orders and special sign requests normally dispatch in 3-7 normal business days. If your order is time sensitive, please authorize the precise turnaround time with Customer Service at 1-800-899-6272.
"Is it possible to help me with a rush order?"
Absolutely!
We sre well furnished with product and personnel to take care of rush orders for a wide array of signs. If you get in a bind and need a street sign fast, we'll bend over backwards to help you get the sign you need, when it's needed!
"Can I have my signs customized with any design I need?"
Yes!
You can aquire virtually any design or color combination you want on your custom street sign.
"What exactly is the minimum order for street signs?"
The minimum order is only one!
"Do you make available any quantity discounts?"
Definitely!
The more signs you order, the less each and every one will cost.
"What if my sign arrives with a defect or maybe scratched...what can be done?"
If your custom street signs or another product arrives damaged or contains manufacturing problems, please speak to Customer Support via Live Chat or contact us at 1-800-899-6272 immediately. Manufacturing defects fit in our Workmanship Guarantee, so we will replace your sign free of charge.
If you try to reach us after business hours, it is possible to e-mail us at service@thesignchef.com and we'll reply when business hours resume.