Decorative Vinyl Letters and Graphics for Your Home and Design Applications
Popular Decorative Vinyl Letter and Graphics Applications
Decorative Appliance Decals

Decorative Furniture Decals

Decorative Glass and Mirror Decals and Lettering

Decorative Youth Decals

Decorative Shapes and Graphics


Decorative Lettering

Deocorative Faux Finishes

Decorative Humorous Lettering and Decals

Decorative Growth Charts

Craft and Art Applications

Decorative Vinyl Letters and Graphics
Interior design and personalizing your space is more popular than ever. Designer looks can be expensive, and who isn't on a budget these days. Here at TheSignChef.com we offer you an alternative. Get a designer look and style for a do-it-yourself price. You can be your own designer, because after all who knows you and your family better than yourself.
Vinyl lettering and graphics are not the first thing you may think of when designing or re-desiging your living space. Vinyl can be designed and cut to complement a contemporary, rustic or traditional styled space. Even the most elegant spaces can be enhanced with a sophisticated pattern. And use a playful shape or silhouette for reto or vintage spaces. Use vinyl graphics to add visual interest to a room or as a pop of "whimsy" or design the perfect look for that one wall that just still needs "something".
Decorative vinyl letters and graphics are hotter than ever. As seen on the top designers shows, applying vinyl letters and decals to interior spaces is a high-end look with a great price. Vinyl letters, graphics and decals are easily apply and in most cases can be removed quickly and easily. This feature makes it great for changing out your look often and even better for those that live in rentals.
Whether you design it yourself or use our free professional graphic designers, you are guaranteed to get the exact look you are after.
Here are the key points to know about custom Vinyl Letters and Graphics:
Available in a wide range of colors and virtually any design.
It has a shiny, satin finish.
Vinyl comes pre-spaced and ready to apply.
You can save about 70% by easily applying vinyl letters and graphics yourself.
With simple instructions, you can achieve professional results.
Big or Small, We Do It All!
While most sign companies are setting limits to what size your Vinyl Letters or Graphics can be, we are printing them in every size.
However, we do not recommend vinyl graphics and letters under 1/8".
Letters and graphics at this size are difficult for your customers to see.
Plus, at this miniscule size, vinyl tears easily.
The most popular sizes available for custom Vinyl Letters and Graphics are as follows:
6" x 12"
10" x 12"
12" x 18"
18" x 24"
18" x 39"
24" x 30"
24" x 36"
48" x 96"
Available Design Options:
PMS Color Match
Custom Shapes
Rounded Corners
Reflective Colors
Translucent Vinyl
Graphics on Clear Vinyl
Sometimes, all you want is the bottom line!
Our online Vinyl Letter and Graphics pricing tool instantly calculates the exact price.
At TheSignChef.com, shipping for Vinyl Letters and Graphics and all other indoor and outdoor signs is free for orders within the continental US greater than $125 for ground and greater than $400 for freight.
Orders outside the state of South Carolina are tax-free!
We do offer quantity breaks at 1, 2, 3, 4, 5, 10, 15, 20, 25, 50, 100, 250, 500, 1000, 2500 and 5000.
We offer more colors for Vinyl Letters and Graphics than anyone out there on the web!
You can now choose from ANY color under the sun when designing your new signage.
You can even choose a reflective color.
PMS Color Match available on most materials.
We custom cut more shapes for Vinyl Letters and Graphics than any other sign company!
TheSignChef.com will cut your Vinyl Letters and Graphics to ANY custom shape.
Pictured below are a few custom graphic shapes, if you need graphics in a more unique shape, let us know.
Displaying Vinyl Letters and Graphics is easy!
Applying your custom vinyl letters is easy and cost effective with our do-it-yourself application kit.
You'll achieve a professional look without having to pay a professional.
Anyone can do it, and we have how-to videos and instruction guides to help you along the way.
Plus, we offer a DIY Guarantee.
Want to save money, but worried you will get in over your head?
If you've never applied vinyl letters and graphics before, the process can seem pretty intimidating at first. You don't want to "mess up" and get the letters crooked. Or even worse, botch the job so badly you have to buy another set and start all over again.
But we make this process easy. All of the vinyl lettering and graphics you receive from TheSignChef will come pre-spaced and ready to apply. Plus, you'll receive an application kit, step-by-step instructions, and will have access to our online how-to videos.
If you're still worried about installing your own letters and graphics, we offer a backup plan. For an additional 25% of your total cost, we offer our Goof Proof Guarantee. Goof Proof allows you to receive replacement letters or logos for those you mess up and we pay the shipping.
Once you've put vinyl letters on for the first time, you may wonder how sign shops get away with charging so much for something that's so easy to do. It doesn't take a "professional" to look like one.
Examples of Great Decorative Vinyl Letter and Graphic Designs:
Below are just a few examples of the quality work we produce. Every week we ship out hundreds of custom signs, banners and sign products, for now here is just a sample to whet your appetite. Here at TheSignChef.com we strive to make the best product at the best price. We take pride in every sign, banner and product we ship out. If you are interested in seeing more designs or finished signs check out our photo gallery. There you can find examples of countless signs and banners.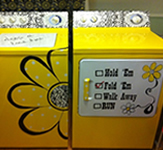 View more samples in our photo gallery >
Frequently Asked Questions About Custom Vinyl Lettering
"How rapidly can you make a Custom Vinyl Lettering for someone?"
We make Custom Vinyl Lettering fast. As soon as you approve the finished graphic on the internet, your Custom Vinyl Lettering will ship within just 24-48 hours!
Huge orders and special sign requests normally dispatch within 3-7 normal business days. If your order is time sensitive, please authorize the precise turnaround time with Customer Service at 1-800-899-6272.
"Could you assist me with a rush order, even for a Custom Vinyl Lettering?"
Indeed!
We are well furnished with product and personnel to handle rush orders for a wide variety of Custom Vinyl Lettering. So if you end up in a bind and want your Custom Vinyl Lettering fast, we'll do everything in our power to aid what you are promoting receive the Custom Vinyl Lettering you may need, when it's needed!
"Can I get my Custom Vinyl Lettering personalized online with any graphic I want?"
Of course!
You may get virtually any design or color scheme you choose for your Custom Vinyl Lettering.
"What is your minimum order for Custom Vinyl Lettering?"
The minimum order for a Custom Vinyl Lettering is only one!
Quantity discounts start with merely two Custom Vinyl Lettering. Certainly, the more you buy at once, the more you'll save (like all our custom signs).
Although Custom Vinyl Lettering are available by other sign companies, we are really not a giant fan of utilizing PVC Plastic Sign material outdoors. PVC Plastic Signs are responsive to solar heat which can result in the plastic sign material to warp. Plus, there's hardly any price savings over the predictable qualities of aluminum.
"Do you feature any quantity discounts for Custom Vinyl Lettering?"
That's right!
The more Custom Vinyl Lettering you pay for, the less each and every one will cost. Consequently your Custom Vinyl Lettering can reach a greater number of people for the more cost-efficient price!
"What if my Custom Vinyl Lettering arrives that has a defect or perhaps is dented...what can be done?"
If your Custom Vinyl Lettering or another item comes broken or includes manufacturing defects, please call Customer Support via Live Chat or phone us at 1-800-899-6272 immediately. Manufacturing defects fit into our Workmanship Guarantee, so we will replace your sign at no cost.
If you try to get us after business hours, you can e-mail us at service@thesignchef.com and we'll get back to you after business hours resume.