3D Sign Letters
Add dimension to your sign with 3D Sign Letters
3D Sign Letters are an exciting way to add interest and dimension to your design. And you don't need to stop with letters. We can easily create 3D logos and other 3D designs for you.
TheSignChef.com is proud of its strategic alliance with Gemini, the world's largest wholesale manufacturer of dimensional letters, logos and plaques.
For the first time, we are giving you total access to the Gemini 2018 catalog. Download the catalog for free, and use it now or save it for a future 3D sign project. With transparent retail prices, explore Gemini's cost-effective 3D options such as injection molded and formed plastic letters. These 3D products convey the look and feel of cast metal, but at a fraction of the cost.
A family-owned business since 1963, Gemini offers its customers a lifetime guarantee. If any exterior rated 3D product—letter, logo or plaque—ever fades or breaks, Gemini will refinish or replace it at no cost to you.
Dimensional letter types
3D Sign Letters can be made of various materials. Here are the most popular:
Wood letters are one of the most common types of 3D Sign Letters. Dignified and sturdy, letters made of wood add a level of sophistication to any custom sign.
Plastic letters last far longer outdoors (and cost less) than wood. They have a professional appearance, and can easily be mistaken for more expensive metal letters.
Metal letters are very durable. Metal 3D Sign Letters help to make corporate logos look elegant and consistently recognizable. Our wide range of available metals include copper, titanium and stainless steel.
Foam letters may not be quite as durable as some other 3D options, but they make
up for it with their light weight and low cost. There are many customization options available, such as metal plating, so your foam letters look just as good as their sturdier counterparts.
3D Letter choices:
Injection Molded
Formed Plastic
Cast Metal
Cut Metal
Cut Plastic
Metal Laminate
Fabricated Metal
Solid Metal
Hollow Metal
Metal Numbers
Metal Logo
Metal Foam
Metal Plastic
Metal Acrylic
Stainless Steel
Bronze Metal
Brass
Aluminum
Copper
Titanium
Sizes
Big or small, we do it all!
While most sign companies set restrictions on how big your 3D Sign Letters can be, we produce dimensional letters in every size imaginable.
Design options
Available design options:
Variety of finishes
Changeable copy
Numerous fonts
Various mounting options
Reflective colors
Installation
Displaying 3D Sign Letters is easy
We offer installation kits and accessories to help you mount your 3D Sign Letters to wood, metal, stucco, brick masonry or concrete.
3D Sign Letter Videos
Here at TheSignChef.com we are always trying to provide you with all the information you need to make the correct sign choice. Below is a collection of videos specific to aluminum signs. If you have any questions after viewing, please feel free to contact Customer Service at service@thesignchef.com or 800.899.6272.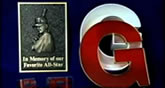 How to Care for Your 3D Letters
2:27min
Mounting Options to Consider when Ordering 3D Sign Letters
7:02min
3D Sign Letter Installation with Mounting Patterns and Spacing Tape
2:25min
More 3D Sign Letter Mounting Options
1:47min
Installing 3D Sign Letters with a Rail Mount
1:07min
Installing 3D Sign Letters on an Uneven Surface
2:27min
Installing 3D Sign Letters on a Brick Wall
1:47min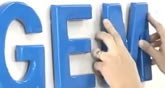 Installing Combination Mounted 3D Sign Letters
3:01min
Installing Pad Mounted 3D Sign Letters
2:55min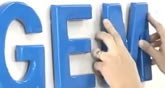 Installing Your New Plastic 3D Letters with a Stud Mount
2:56min
Installing Pad Mounted 3D Sign Letters
2:55min
More Information about 3D Sign Letters
How fast can you produce 3D Sign Letters?
We can make 3D Sign Letters very quickly. Once you have approved the final design online, your order will move into production. For many materials, your order will ship within 24-48 hours.
Specialty signs, certain materials and large order requests may take longer. You can confirm the turnaround time of your order with Customer Service at 800.899.6272.
Is it possible to assist me with a rush order, even for 3D Sign Letters?
Yes. Most of our materials are ready to go for a rush order.
Can I order my 3D Sign Letters with any graphic I want?
Yes. You can get just about any design or color combination you like with your custom letters. We can also create 3D logos.
What is the minimum order for 3D Sign Letters?
The minimum order is just one.
Do you have any quantity reductions for 3D Sign Letters?
Yes. Discounts vary depending on total quantity and material type.
What if my letters arrive with a flaw or damaged?
If your 3D Sign Letters or some other product you ordered from us arrives broken or includes production defects, please contact Customer Support via Live Chat or call 800.899.6272 immediately. Manufacturing defects fall under our Workmanship Guarantee, so we will replace your sign free of charge.