Foam Core Ultra, a Durable Solution for Foam Core Signs
Foam Core Ultra signs are a far superior version of regular foam core signs. They are coated with a thin, solid and perfectly smooth plastic for added strength and durability so your designs look perfectly professional longer than with standard foam core.
Add durable visual aids to presentations or product displays.
Replace faded or damaged posters.
Resistant to dents, scratches and imperfections.
Light in weight for easy transportation or display changes.
Waterproof - great for indoor or temporary outdoor use.
Any design, artwork, photo or logo can be used.
What You Should Know About Custom Foam Core Ultra Signs
You may think you're familiar with this material, but you're not. That's because Foam Core Ultra is a unique material exclusive to TheSignChef.
Regular foam core, commonly used in school presentations, is comprised of a foam interior covered with a smooth paper coating. You're probably asking yourself, "Why would I ever want a paper sign?" You wouldn't! That's why here at TheSignChef, we only offer Foam Core Ultra custom signs.
While regular foam core signs are delicate and easily susceptible to damage, Foam Core Ultra is much more resistant to scratches and indentations and banged-up corners. Foam Core Ultra is still lightweight and economically priced, (in fact, Foam Core Ultra costs no more than regular foam core!) and it's also completely waterproof and durable enough for handling and transportation. Foam Core Ultra is a popular sign material for corporate and sales presentations, mission statements for office lobbies, tradeshows and mounting posters.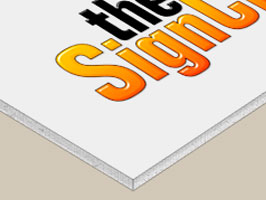 The Sign Chef Video Library
Foam Core Ultra is a versatile sign material and we here at TheSignChef.com want you to know all there is to know about it. We have produced a small collection of videos to help you decide if Foam Core Ultra is the right sign material for you and your new sign.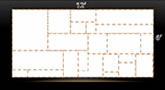 Foam Core Signs- Ultra Size Options
2:19min
Foam Core Ultra Signs- How Thick Should Your New Sign Be?
3:08min
Foam Core Ultra Signs- Can I Get Any Shape I Want?
2:26min
Foam Core Ultra Signs- What Does Foam Core Ultra Look Like Up Close?
3:21min
Here are the key points to know about custom Foam Core Ultra Signs:
Coated in high quality smooth plastic on both sides.
Made of 3/16" foam.
Completely waterproof.
Recommended for indoor and temporary outdoor use.
Lightweight and easy to transport.
Ideal for use in presentations.
Resistant to dents, scratches and imperfections.
Economically priced.
You can get any size, color, and some custom shapes.
Any design, artwork, photo or logo can used.
Big or Small, We Do It All!
While most sign companies are setting limits to what size your Foam Core Ultra Sign can be, we print Foam Core Ultra Signs in every size.
Foam Core Ultra Signage from TheSignChef comes in sizes up to 4' x 8' in a single, seamless sheet.
If you need a sign that is larger than that. Just let us know, and we'll make sure to get you any size Foam Core Ultra Sign you need.
The most popular sizes available for custom Foam Core Ultra Signs are as follows:
10" x 12"
12" x 18"
18" x 24"
24" x 36"
48" x 96"
Available Design Options:
PMS Color Match
Custom Hole Placement
Rounded Corners
Dry Erase Laminate
Reflective Colors
Sometimes, all you want is the bottom line!
Our online Foam Core Ultra Sign pricing tool instantly calculates the exact prices on Foam Core Ultra Signs.
At TheSignChef.com, shipping for Foam Core Ultra Signage and all other indoor and outdoor signs is free for orders within the continental US greater than $50 for ground and greater than $400 for freight.
Orders outside the state of South Carolina are tax-free!
We do offer quantity breaks at 1, 2, 3, 4, 5, 10, 15, 20, 25, 50, 100, 250, 500, 1000, 2500 and 5000.
We offer more colors for Foam Core Ultra Signs than anyone out there on the web!
You can now choose from ANY color under the sun when designing your new signage.
You can even choose a reflective color.
PMS Color Match available on most materials.
Displaying Foam Core Ultra Signage is easy!
We offer installation kits and accessories that will help you mount your new sign to wood, metal, stucco, brick masonry or concrete!
We can drill holes to the top of your sign to simplify the hanging process.
Selection of screw caps are available for a finished polished look.
Adhesive backing available on small and lighweight signage.
Complete collection of sidewalk A-frames.
Frequently Asked Questions About Custom Foam Core Signs
"What are the differences between Foam Core Ultra and regular foam core?"
The main difference between these two materials is that regular foam core has a cardboard coating on both sides of its interior foam, whereas Foam Core Ultra is coated with plastic.
Both materials are lightweight, fairly rigid and are used for the same types of signage.
But you will run into the following problems with regular foam core:
The material is sensitive to damage
Its paper coating is prone to surface imperfections and indentations
It is easily scratched up and bent
It compresses but does not spring back into place
Any amount of moisture will cause permanent damage
Even minimal handling can cause damage
Alternatively, with our Foam Core Ultra you won't need to worry about any of those problems. Foam Core Ultra is plastic coated, durable, waterproof, scratch and dent resistant.
Foam Core Ultra has everything you were looking for in a foam core sign, only more!
"What kind of signage is Foam Core Ultra most commonly used for?"
Foam Core Ultra is intended for inside use and temporary outdoor use. It is not recommended for long-term outdoor purposes. As such, Foam Core Ultra is ideal for use in schools, corporate and sales presentations, point-of-purchase signage, tradeshow signs, mounting posters and mission statements in office lobbies. But go ahead and use your imagination — the possibilities are endless!
"What sizes can I order my Foam Core Ultra Sign in?"
Your Foam Core Ultra sign can be any size you want! Unlike most companies, we don't put a limit on the size of your signage. Our largest single, seamless piece of Foam Core Ultra is 4'x8', but we can put multiple panels together to create a sign as large as you want.
"What kind of image can I use on Foam Core Ultra?"
The sky is the limit! Your graphics can be vector, photographical or both. And your color choices are never-ending! Choose any color in the rainbow for your background, graphics or text.
"Why are regular Foam Core signs such a piece of junk?"
Let me tell you why!
Many people choose Foam Core for their custom signage because it is lightweight, rigid and economically priced. But what they don't know is how sensitive to damage the material really is.
Foam Core is 3/16" thick foam with a smooth paper coat on both sides. This material…
…takes almost no effort to damage
…is prone to surface imperfections and indentations
…is easily scratched and bent up
…compresses but does not spring back into place
…and any amount of moisture will cause irreversible damage!
In short, after very little handling, your Foam Core sign will begin to look unprofessional.
Introducing Foam Core Ultra!
Here at TheSignChef, we prefer a little something called Foam Core Ultra. This is a completely different product than Foam Core, but has all of its good ingredients and none of the bad. Foam Core Ultra is 3/16" thick foam, and is coated on both sides in perfectly smooth plastic, rather than paper.
Foam Core Ultra is as lightweight as Foam Core but far more rigid. It is more dent resistant than Foam Core and is completely waterproof. So Foam Core Ultra is better for signs that are handled and transported repeatedly.
"How many signs do I have to order at once?"
The choice is yours! We are capable of handling any project of any size. You can order one or thousands of Foam Core Ultra Signs at once!
"Is Foam Core Ultra suitable for both indoor and outdoor use?"
Foam Core Ultra Signs are perfect for indoor use. Outdoor use is also okay in short spurts, but we do not recommend using Foam Core Ultra for long-term, outdoor signs.
"How can I mount or hang my Foam Core Ultra Sign?"
Since Foam Core Ultra is so lightweight, you can easily mount it many different ways. We can fit your sign with a full adhesive back that will stick to virtually any surface!
You can also easily mount your Foam Core Ultra sign using double sided tape, suction cups, Velcro, frames, stakes or grommets.
Or if you'd like to hang your Foam Core Ultra sign from the ceiling, just let us know. We can drill holes in the top of your sign to simplify the hanging process!
"How do I know that my custom Foam Core Ultra sign will turn out the way I want?"
Are you concerned that your custom Foam Core Ultra signs may not turn out the way you want?
After all, we are probably hundreds of miles away from you, so how can you be certain your order will turn out right? Fortunately, it only takes seconds to transmit full-color custom Foam Core sign designs from our computer to yours because e-mails travel so fast these days.
Upon order approval, here's how the process works:
First, your order goes straight to our Art Department
Our graphic designer will then e-mail you a proof
(a "proof" is a picture of what your sign will look like)
Once you review the layout, let us know if you would like to see any changes, and …
If you have any changes, we will e-mail you proofs as needed until you're completely happy with your design.
"Do you offer any buyer protection guarantees?"
Yes! Every Foam Core Ultra sign order comes with a 100% Buyer Protection Guarantee
Sometimes, we make mistakes. We are only human after all. But it's how a business handles mistakes that counts, wouldn't you agree? So if we do happen to overlook something on your order, we will bend over backwards to make you happy. We stand behind our work with a 100% Customer Satisfaction Guarantee.
We will promptly replace any product that is defective in workmanship or that is different from what you approved. And for your trouble, you'll even get a very pleasant surprise gift.
"Just how fast can you produce a custom foam core sign for me?"
Unusual signs and large order requests usually dispatch in 3-7 normal business days. If your order is time sensitive, please confirm the particular turnaround time with Customer Service at 1-800-899-6272.
"Can you assist me with a rush order, even for a custom foam core sign?"
Yes!
We have been well furnished with inventory and personnel to manage rush orders for a wide selection of custom foam core signs. For those times you find yourself in a bind and desire your custom foam core sign fast, we'll do everything in our power to assist what you are promoting receive the custom foam core sign you'll need, when you need it!
"Can I receive my custom foam core signs personalized online with any graphic I need?"
Definitely!
You can get virtually any design or color scheme you choose on the custom foam core sign.
"What exactly is the minimum order for custom foam core signs?"
The minimum order for a custom foam core sign is only 1!
Quantity discounts start out with merely two custom foam core signs. Certainly, the more you purchase at once, the more you'll save (like all our custom signs).
Although custom foam core signs are sold by other sign companies, we're not a big fan of utilizing PVC Plastic Sign material outdoors. PVC Plastic Signs are sensitive to solar heat which might cause the plastic sign material to warp. Plus, there's virtually no price savings above the predictable qualities of aluminum.
"Do you feature any quantity discounts for custom foam core signs?"
Absolutely!
The more custom foam core signs you receive, the less each of them will cost. Consequently your custom foam core signs can reach an increased number of people for a more cost-efficient price!
"What if my custom foam core sign arrives possessing a defect or maybe scratched...what can be done?"
If your custom foam core signs or some other item arrives broken or contains manufacturing problems, please communicate with Customer Service via Live Chat or phone us at 1-800-899-6272 immediately. Manufacturing defects fit into our Workmanship Guarantee, therefore we will replace your sign for free.
If you try to contact us after business hours, you can e-mail us at service@thesignchef.com and we'll get back to you after business hours resume.