Custom PVC Signs
PVC Plastic signs are a great choice for indoor signage - especially if you need a custom shape.
Perfect for Indoor Signs
Smooth finish that won't show glare or fingerprints
Any design, artwork, photo or logo can be used.
Custom shapes available
Looking for a Lightweight, Durable, Indoor Sign?
Our custom PVC signs have a smooth, satin finish that pretty much eliminates reflection, glare, and fingerprints. PVC comes in white as well as several standard, rich vibrant colors with pigments that hold their color better than ever before.
The material is suitable for indoor use only, since high heat can cause it to warp, but it is also waterproof, long-lasting, and easy to mount using screws, double sided tape, adhesive, suction cups, hooks, or our blind fastener system.
PVC signs won't crack, split, or rot like traditional wood signs. PVC is more resistant to impact and less likely to shatter than acrylic. It also has greater flexability compared to many alternative materials making it a well-rounded choice for indoor signage solutions.
For yard signs, parking signs, or any other outdoor use, we recommend outdoor grade sign materials.
Custom PVC Signs are Often Used For:
Business and Office Signs
Retail Store and Display Signs
Warehouse & Factory Signage
Point-of-Purchase Signs
High-End Trade Show Signs
Hanging and Floor Signs
Sale and Promotional Signs
Directional Signs
Identification Signs
The Sign Chef Video Library
What exactly is the right size and shape for your PVC Sign? We provide you the answer to that question and many more in our custom videos. We created a selection of videos all about PVC sign options. If you have any additional questions please don't hesitate to give us call at 1-800-899-6272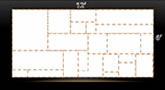 PVC Sign Size Options
2:40min
PVC Signs- How Thick Should Your PVC Sign Really Be?
3:23min
PVC Signs- What Shapes are Available for My PVC Sign?
2:27min
Here are the key points to know about custom PVC Signs:
For indoor use only
Easy to care for, as it is completely waterproof
Available in 1 mil, 1/8", 1/4", 1/2", and 1"
The most durable of indoor sign materials
Has a smooth satin finish without the glare or reflection.
Lasts for decades indoors
Easy to mount (Mounting kits available)
You can get any size you want.
Any shape.
Any colors.
Any design, artwork, photo or logo can be used.
Big or Small, We Do It All!
While other sign companies are setting size limits, we are making PVC Signs in any size you may need.
PVC comes in sizes up to 4' x 8' in a single, seamless sheet.
If you need a sign larger than that just let us know!
The most popular sizes available for custom PVC signs are as follows:
10" x 12"
12" x 18"
18" x 24"
24" x 36"
48" x 96"
Available Design Options:
PMS Color Match
Custom Hole Placement
Custom Shapes
Rounded Corners
Dry Erase Laminate
Sometimes, all you want is the bottom line!
Our online pricing tool instantly calculates prices on indoor plastic signs.
At TheSignChef.com, shipping indoor and outdoor signs is free for orders within the continental US greater than $125 for ground and greater than $400 for freight.
Orders outside the state of South Carolina are tax-free!
We do offer quantity breaks at 1, 2, 3, 4, 5, 10, 15, 20, 25, 50, 100, 250, 500, 1000, 2500 and 5000.
We offer more colors for PVC Signs than anyone out there on the web!
You can now choose from ANY color under the sun when designing your new sign.
The PVC material itself comes in a number of standard colors.
But if it does not come in the color you need, no worries! The magic of digital printing can take care of that, at no extra charge!
We custom cut more shapes for PVC Signs than any other sign company!
TheSignChef.com will cut your sign into ANY custom shape.
Pictured below are a few custom sign shapes - if you need a more unique shape just let us know.
Displaying Your Custom PVC Sign is Easy!
We offer installation kits and accessories that will help you mount your new sign to wood, metal, stucco, brick masonry or concrete!
We offer a large variety of scroll brackets for hanging your new custom sign.
We can drill holes to the top of your sign to simplify the hanging process.
Selection of screw caps are available for a finished polished look.
Adhesive backing available on small and lightweight signage.
Frequently Asked Questions
"How quickly can you make a Custom PVC Sign?"
We make them fast. As soon as you approve the final design on the internet, your new sign will move into production and ship in just 24-48 hours!
Large orders and special requests normally ship out in 3-7 business days. If your order is time sensitive, please confirm the precise turnaround time with Customer Service at 1-800-899-6272.
"Are you able to assist me with a rush order?"
We are well equipped with product and personnel to deal with rush orders for a wide variety of signs.
If you need a rush order please give us a call at 1-800-899-6272 or shoot us an email.
"Can I receive an indoor plastic sign customized with any design I want?"
Of Course!
You can get virtually any design or color scheme you want on a PVC sign. Choose unlimited colors or even photographic quality images for no extra charge.
"What is the minimum order quantity?"
The minimum order is only 1!
"Do you offer any quantity discounts for PVC Plastic signs?"
Quantity price breaks begin with as little as two signs. The more you buy at once, the more you'll save.
"If my sign arrives scratched or flawed in some way what can be done?"
If your indoor plastic sign or another item arrives broken or possessing manufacturing problems, please speak to Customer Service via Live Chat or phone us at 1-800-899-6272 immediately. Manufacturing defects fall under our Workmanship Guarantee, so we will replace your sign for free.
If you are attempting to reach us after business hours, you can e-mail us at service@thesignchef.com and we'll reply after business hours resume.
"What is the difference between PVC and other plastic sign materials?"
PVC is cheaper than acrylic but more expensive than Coroplast.
Coroplast is mainly used for temporary outdoor signs, and we do not recommend it for a permanent indoor sign display.
PVC and acrylic are the ideal materials for indoor signs. The main differences of these materials are:
PVC is not as glossy as acrylic
PVC is slightly more durable than acrylic
"Can I display my Custom PVC Sign outside?"
While PVC plastic is perfect for all types of indoor signage, extreme hot weather conditions can cause the material to warp. Though many people are happy with the results they've experienced with their PVC sign displayed outdoors, we do not recommend this particular type of plastic for outdoor use.
"If PVC Plastic is recommended for indoor use only, what material should I use for my outdoor signage?"
For outdoor signs, we recommend and offer other materials that you can use with total confidence. These materials include:
"How do I know that my custom PVC sign will turn out the way I want?"
There is no need to worry. We will send you a version of your sign digitally and it will not go into production until we have received your approval.
Upon order approval, here's how the process works:
Your order goes straight to the Art Department
Our Graphic Designer will then e-mail you a proof
(a "proof" is a picture of what your sign will look like)
Once you review the layout, let us know if you would like to see any changes, and …
If you have any changes, we will e-mail you proofs as needed until you're completely happy with your design.
"Do you offer any buyer protection guarantees?"
Yes! Every sign order comes with a 100% Buyer Protection Guarantee
Sometimes, we do make mistakes. We are only human after all. But it's how a business handles mistakes that counts, wouldn't you agree? So if we do happen to overlook something on your order, we will bend over backwards to make you happy. We stand behind our work with a 100% Customer Satisfaction Guarantee.
We will promptly replace any product that is defective in workmanship or that is different from what you approved. And for your trouble, you'll even get a very pleasant surprise gift.