Vehicle Lettering and Graphics are Advertising on the Go!
Vinyl graphics and lettering for your vehicles are a great way to make an impression on potential customers or showcase your personal style. Automotive vinyl graphics are one of the most cost-effective forms of advertising.
Increase Brand Recognition
Create Effective Outdoor Advertising
Make Company Vehicles Easily Identifiable
Easy Installation with our How to Videos and Goof-Proof Guarantee
Examples of Great Custom Vehicle Lettering and Graphics:
Learn More About Vehicle Lettering and Graphics for Businesses
Vehicle signage is an important part of your business's marketing strategy. It allows for a form of outdoor advertising that has a cost-per-impression much lower than billboards or bus advertising.
With automotive vinyl graphics you can also use it make your fleet of vehicles uniform and easily identifiable. Your customers will recognize your vehicles when they arrive at a home, business, or job-site and instantly project an air of professionalism and security.
You may even earn new customers when they see your vehicle with its distinctive logo and graphics at their neighbors' homes or around town.
Personalize Your Own Vehicle with Custom Graphics
Automotive vinyl graphics allow you to put your own design flair on your ride. Bring your ideas to us and we can create a custom design that makes your vehicle stand out!
Our premium vinyls are great for adding your boat's name to the side in style or decking out a jet ski with an intricate design. We can also customize designs for motorcycles and ATVs.
You can easily install pinstriping and other cool design elements to any vehicle to make it uniquely your own. Feel free to contact one of our customer service specialists for personalized suggestions - you can also design online or upload your own creations!
Vinyl Lettering and Graphics Installation Instructions
Want to learn all about how it easy it is to install automotive vinyl graphics and lettering yourself? We have a number of videos below to help you out and we also have step-by-step instructions.
The instructions are available to view online or download as a Google Doc or as a PDF. And of course if you have any questions at all just let us know!
The Sign Chef Video Library: Vehicle Lettering and Graphics
Choosing vinyl letters and graphics doesn't have to be intimidating. These videos will teach you the difference between vinyl letters and decals and how exactly they are produced. You can also view videos on vinyl graphics installation on our Vinyl Application Videos page. We like to provide our clients with all the information they need to make the right choice for their business or promotion.
How to Lay Large Vinyl Graphics on a Vehicle
6:38min
How to Apply Vinyl Letters and Graphics to a Van - Part 1
9:39min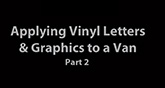 How to Apply Vinyl Letters and Graphics to a Van - Part 2
7:46min
How to Apply Vinyl Letters and Graphics to a Trailer or Vehicle
14:19min
Vinyl Letters vs Decals - Part 1
2:51min
Vinyl Letters vs Decals - Part 2
2:08min
How to Apply Window Perf to your Vehicle Window
12:22min
How We Produce Vinyl Letters and Graphics
0:59min
Vinyl Application-Unique Use for Vinyl
2:22min
Materials available are:
Bumper Stickers
Decals
Magnetic
Reusable Window Pef
Vinyl Letters
Window Perf
Big or Small, We Do It All!
We can print vinyl graphics in just about any size.
However, we do not reccomend vinyl graphics and letters under 1/8".

Letters and Graphics at this size are difficult for your customers to see.
Plus, at such a small size, vinyl tears easily.

The most popular sizes available are:
6" x 12"
10" x 12"
12" x 18"
18" x 24"
18" x 39"
24" x 30"
24" x 36"
48" x 96"
Available Design Options:
PMS Color Match
Custom Shapes
Rounded Corners
Reflective Colors
Translucent Vinyl
Graphics on Clear Vinyl
Sometimes, all you want is the bottom line!
Our online pricing tool instantly calculates the exact prices on Vehicle Lettering and Graphics.
At TheSignChef.com, shipping for all indoor and outdoor signs is free for orders within the continental US greater than $125 for ground and greater than $400 for freight.
Orders outside the state of South Carolina are tax-free!
We do offer quantity breaks at 1, 2, 3, 4, 5, 10, 15, 20, 25, 50, 100, 250, 500, 1000, 2500 and 5000.
We offer more colors for than anyone out there on the web!
You can now choose from ANY color under the sun when designing your new signage.
You can even choose a reflective color.
PMS Color Match available on most materials.
We custom cut more shapes than any other sign company!
TheSignChef.com will cut your Vehicle Lettering and Graphics into ANY custom shape.
Pictured below are a few custom graphic shapes, if you need graphics in a more unique shape, let us know.
Displaying Vehicle Lettering and Graphics is easy!
Applying your custom vinyl letters is easy and cost effective with our do-it-yourself application kit.
You'll achieve a professional look without having to pay a professional.
Anyone can do it, and we have how-to videos and instruction guides to help you along the way.
Plus, we offer a DIY "Goof-Proof" Guarantee.
Want to save money, but worried you will get in over your head?
If you've never applied vinyl letters and graphics before, the process can seem pretty intimidating at first. You don't want to "mess up" and get the letters crooked. Or even worse, botch the job so badly you have to buy another set and start all over again.
But we make this process easy. All of the vinyl lettering and graphics you receive from TheSignChef will come pre-spaced and ready to apply. Plus, you'll receive an application kit, step-by-step instructions, and will have access to our online how-to videos.
If you're still worried about installing your own letters and graphics, we offer a backup plan. For an additional 25% of your total cost, we offer our Goof Proof Guarantee. Goof Proof allows you to receive replacement letters or logos for those you mess up and we pay the shipping.
Once you've put vinyl letters on for the first time, you may wonder how sign shops get away with charging so much for something that's so easy to do. It doesn't take a "professional" to look like one.