Custom Decals
Advertise Your Business and Promotions with Personalized Designs You Can Easily Apply to Windows, Vehicles, Doors, and Walls!
Custom decals not only promote and advertise your business to new customers, they are easy and quick to design and order here online. Use them to start branding your business and create an image that is synonymous with the service you provide.
Vinyl decals can be produced to fit all your size and quantity needs - all within your budget!
Strong and long lasting - they can withstand most weather conditions and are fade-resistant. Perfect for easily applicable long-term business signage.
You can get decals printed with any custom design you choose. Custom vinyl decals are printed in full-color for a vibrant eye-catching design.
If you are seeking standard custom decals, which are white, your design will be completely solid and opaque. For a more translucent look select clear vinyl which comes with a completely transparent background. (You may also be interested in getting customized Vinyl Letters - which are cut to shape and therefore have no background - and are still easy to apply!)
If you are looking for traditional shapes (square, rectangle or vertical rectangles) we've got you covered. If you'd like a fancy shape we can do that too - we can contour cut to any shape you design.
Our vinyl decals can even be used as stickers that are perfectly suited for outdoor use!
No need to worry about installation
Worried about your installation? We have a back up plan. For an additional 25% of your total cost, we offer our "Goof Proof" Guarantee. Goof Proof allows you to receive replacement letters or logos for those you mess up. We'll even pay for shipping.
Custom Vinyl Decals and Some Suggested Applications
Storefront Window Decals
Applying decals to your windows is one of the fastest and most economical ways to get noticed. Increase your exposure with eye catching designs, colors and shapes.
Use them to display your company name, logo, and office hours or to promote sales or special events.
You can even cover all your windows with custom decals to make the most out of your advertising space. If you haven't opened your doors yet they can hide construction mess while letting customers know that you'll be opening soon!
Vehicle Vinyl Decals
Incorporating custom decals onto your business vehicles is easy advertising on the go.
Get noticed by your audience in your target locations. Display your logo, photo number, and other important info on your car, truck, or van to broadcast your business details during your commute and while you are out visiting customers, clients, and job sites.
With our range of options you can get a design that compliments your company and even your vehicle make and model. They can be easily applied not only to your vehicle's body, but to the windows as well. We also offer a special material that allows you to see through decals on your windows.
If you transport or operate with hazardous materials vinyl decals are the perfect choice for the custom placards commonly displayed on semi and large transport vehicles.
Vehicle decals don't have to be all about business either - they are awesome for giving your car or motorcycle (or boat, truck, van, enclosed trailer, bike, jet-ski) a personalized look. You can use them for racing stripes, flames, or other cool car customization ideas!
Wall Decals
Custom vinyl decals aren't just for exterior use.
Applied to walls, they are a great way to add business branding to the inside of your business location. Use your company logo, slogan, colors, or other images for a professional atmosphere not only outside but inside your business.
Decals are easy and quick to install yourself, providing you a high end look, without the expense of an outside company.
Use custom decals in the lobby, behind a desk, or on furniture. We've had dentists order them for the ceiling! As you can see you can place them just about anywhere - try and think of some creative ideas for your office.
Decal Art
They're not exclusively for businesses either, custom decals are great for home decor too.
Add names, family sayings or whimsical expressions to walls, doors, cabinets and even appliances.
Scroll work and other decorative flourishes are easy to apply as decals.
Get in on a growing trend in interior design - we are happy to assist you in coming up with a design if you need us.
Combining Custom Decals and Vinyl Letters
Using decals with vinyl letters is a great way to create a unique business logo usable in every facet of your business.
Apply them to your vehicles, products, business exterior and more.
With a variety of colors, shapes, fonts and images available you can create amazing combinations reflective of you and your business.
<script type="text/javascript">var switchTo5x=true;</script> <script type="text/javascript" src="http://w.sharethis.com/button/buttons.js"></script> <script type="text/javascript">stLight.options({publisher: "86bf83f0-7ee9-4c74-bb04-7a1e186a0519"});</script> <span class='st_facebook_hcount' displayText='Facebook'></span> <span class='st_twitter_hcount' displayText='Tweet'></span> <span class='st_googleplus_hcount' displayText='Google +'></span> <span class='st_pinterest_hcount' displayText='Pinterest'></span> <span class='st_email_hcount' displayText='Email'></span>
Huge range of colors to select from
Custom full color options available
Virtually any design
Shiny satin finish
Arrives ready to install
Installation instructions included
70% savings from self installation
Also available in window perf
Choose any size or shape
Available in any color, design or style
Your choice of design, photos, logos or artwork
The Sign Chef Video Library
Below you will find some of our large collection of custom videos. You'll find all the information you need to know. One question we get a lot is, "What is the difference between vinyl decals and vinyl letters?" We have included videos here to answer that question in detail. In addition view the videos on material grade selection.
Decals vs Vinyl Letters - Part 1
2:51min
Decals vs Vinyl Letters - Part 2
2:08min
"Which Grade of Vinyl Should I Choose for My Vinyl Decals?" Extended
6:01min
"Which Grade of Vinyl Should I Choose for My Vinyl Decals?" Short
2:50min
Design or Price Vinyl Decals
Design Online
Price Now
Unlimited proofs with every sign. We send a proof of your design to ensure 100% satisfaction before we ship.
Free shipping on all Custom Decals for orders within the continental US greater than $125 for ground and greater than $400 for freight

Are Custom Vinyl Decals Right For You?
Use our material selection wizard to help you determine the right sign material for your needs.
Find Out Now
Similar Materials
Vinyl Letters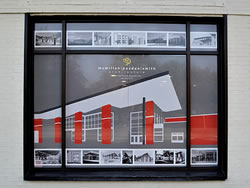 Window Perf

Magnetic Signs

Illumadecor